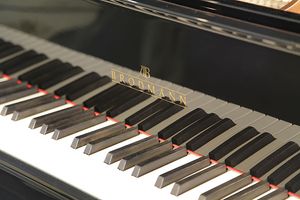 A couple of months back I played a Brodmann piano at a few dance recitals. That piano left a big impression on me. 
Brodmann is a name I've heard great things about and now I understand why. They have a reputation for making beautiful sounding pianos at the more affordable price mark. 
I should stipulated the grand piano I played was one of the pricier professional editions, crafted with top notch materials and strings.
Brodmann pride themselves on their European specifications and sound. This really shows with their highly responsive and nuanced performance. Couple this with a gorgeous rich, dark tone and it's hard to believe that price tag. It seems they've really delivered the impossible. 
If you're in the market for an acoustic piano and you favour a rich, deep European sound find a Brodmann stockist and try them out. Posh nosh quality with an entry level price tag, gotta love that. 
Oh, and if you're wondering, the answer is no, I'm not being endorsed to write this! 
-Sky.